UK Making Tax Digital
ONESOURCE helps you ensure MTD compliance in the UK and stay future-proof for any tax changes
Making Tax Digital for VAT 
HMRC, with its ambition to be the most digitally advanced tax administration in the world, transformed tax from April 2019. With regulations for MTD becoming law, it is now mandatory for your organization to:
Maintain digital records for all transactions
Enable digital links from record to report
Submit returns digitally via software
MTD has made a leap towards enabling a real-time reporting approach combined with massive structural changes across tax processes.
---
How Tax Digitization Impacts Processes 
While MTD is an important step towards increasing ease and transparency in tax administration, it also introduces challenges in terms of procedural and structural changes for companies with operations in the UK, such as:

Eliminating the provision to manually enter data through the HMRC gateway
Requiring a digital link for all adjustments prior to filing VAT returns
Rendering spreadsheets ineffective as they are unable to offer audit trails
Further, the mandate to submit returns via a software requires identifying one that meets all HMRC requirements. But this allows companies to finally move away from spreadsheets and inefficient legacy software to an evolved technological solution, that facilitates automation of processes right from record to report.
---
Transform your tax processes while ensuring MTD compliance with ONESOURCE
Thomson Reuters' ONESOURCE Indirect Tax Compliance is compatible with HMRC's regulations, and fully supports all requirements of UK MTD. In fact, it is one of the first software programs to be approved by HMRC for MTD compliance. As it is designed to be a plug and play solution, you can be sure that none of your existing processes are disrupted while transforming your tax processes with ONESOURCE implementation. It allows you to be confident in your VAT operations for MTD and ensures compliance with all future regulations. ONESOURCE transforms your VAT processes by enabling:
ONESOURCE enables businesses to achieve full compliance with MTD regulations for VAT. It also helps companies future proof compliance with upcoming changes.
ONESOURCE provides companies with the tools required to easily upload and adjust source data, calculate returns, as well as electronically submit to HMRC. Further, it is accessible anywhere, anytime, via a browser, and offers a full audit trail and comprehensive reporting.
The solution features risk management controls across all functions and the ability to review and sign off of processes. You also get the ability to examine data all the way from return box numbers down to transactional level data.
The inhouse tax research team at Thomson Reuters ensures that tax rules and legislation are kept up-to-date. Also, since ONESOURCE is a cloud-based solution, you can be certain that you always have access to the latest updates in tax laws.
ONESOURCE gathers data from a variety of sources and compiles it into a well-structured system, maintaining consistency and ensuring repeatability. Since the user interface is web-based, it also helps increase productivity and teamwork.
ONESOURCE ensures compliance with indirect tax reporting in over 50 countries from traditional VAT returns, GST, EC Listings, and Intrastat, to the more complex requirements like SAF-T, Spanish SII and other country specific reports. It supports your tax processes while your organization grows globally.
The world's largest Largest Outsourcing and Technology Specialist was compliant with MTD from day one.
UK MTD: Future-Proofing Tax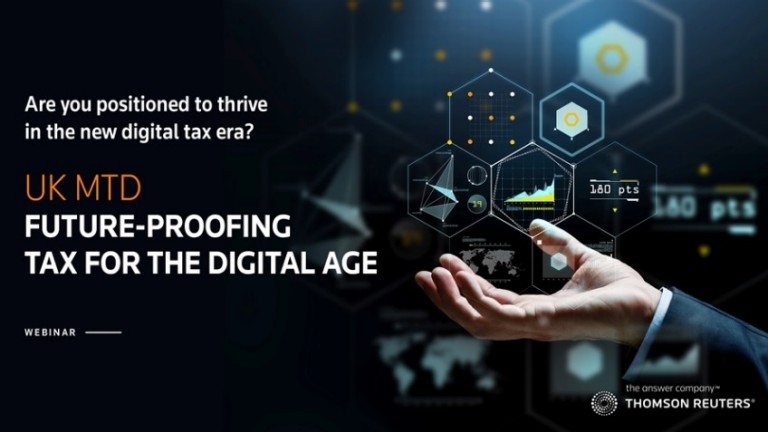 As you make the necessary changes to achieve MTD compliance, it is worth considering the growing impact on your tax teams of similar reporting requirements in other jurisdictions. Watch the pre-recorded webinar to know how you can gain the most out of this structural change.
Ready to take the next steps in tax transformation?
By using any Thomson Reuters or its related bodies corporate (TR) website, application, including mobile application ("app"), product, software or service or, otherwise, providing us with any of your (or any other person's) personal information you consent to our collection, use and disclosure of your personal information in accordance with (and agree to the terms of) our Privacy Statement (which can also be found at https://www.thomsonreuters.com/en/privacy-statement.html or we will provide you with a copy of our Privacy Statement if you email us at privacy.issues@thomsonreuters.com and request a copy). Do not proceed to use any of our websites, products or services or provide any personal information to us if you do not consent/agree to our Privacy Statement.